More specifically, I am playing Pokemon Platinum (I know, not again right?)
Admittedly I am only passingly familiar with emulators, but I know enough to understand their basic function and operation - I am somewhat familiar with how technology works. PC Specs are as follows:
DeSmuME 0.9.5 x86 32bit
Athlon64x2 3ghz (6000+)
2gm ram
geforce gtx295
Win7 x32 RC
To the point, in the third gym the puzzle involves navigating rooms in the dark with a flashlight, to find the correct door to proceed. I usually use OpenGL renderer, I seem to get a bit better performance out of the notoriously resource intensive pokemon games with it, and fewer graphics artifacts. However, in this gym, the "darkness" is completely absent. I have attached screenshots demonstrating the issue, same room, first in opengl then softrast. Savestates can be provided upon request, if needed.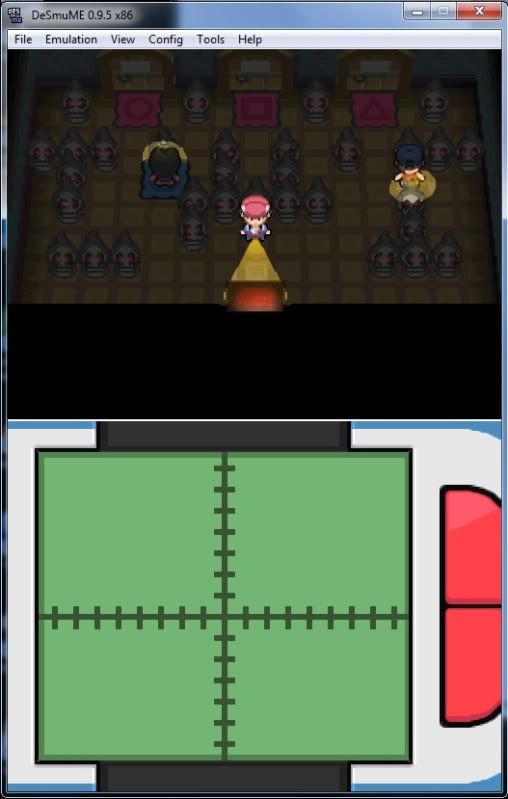 Reading the forum and FAQ I am aware that the pokemon games sometimes have "issues". If this is one of them, that is completely understandable, as I have not had much experience with other games to compare with. Not knowing whether this is an emulator issue, an OpenGL issue, or a game-specific issue I thought I would bring it to attention and if it's "one of those things" it's obviously not a huge deal - just didn't want to be "that guy" that stumbles on what might be a bug but doesn't say anything.
Last edited by battlepope (2009-12-14 23:46:43)